The Player Unknown's Battlegrounds, PUBG, has been the most played game on Steam since mid-2017. Despite of this, PUBG still received mixed reviews, mainly because of performance issues. The game is unoptimized, having similarly built system won't give you similar results, and lower fps compared to AAA titles that has better graphics. Fast forward to February 2019, PUBG Corporation released PUBG Lite for free (currently available to these countries only – Thailand, Bangladesh, Brunei, Cambodia, Laos, Myanmar, Indonesia, Malaysia, Philippines and Singapore), to address the performance issues and let low-budget system experience the game.
In this article we explore the game and get the best settings for performance without losing mush visual quality.
PUBG Lite System Requirements ( Minimum / Recommended )
Processor           : Intel Core i3 2.4GHz / Core i5 2.8GHz
Memory              : 4 GB / 8GB
Graphics Card    : Intel HD Graphics 4000, DirectX 11 / NVIDIA Geforce GTX 660 or AMD Radeon HD 7870
OS                      : Windows 7, 8, 10 64-Bit
The minimum system requirements for PUBG Lite can be compared to a 2012 low-mid system. The closest match for the required processor is the i3-2100T, which is clocked at 2.5GHz. The graphics requirement is also low with Intel HD 4000, which has similar performance to a GeForce GT 710. With just 4GB memory requirement, it's very easy to pass these requirements nowadays.
Test System
Processor           : Intel Core i5-3470 3.4 GHz
Memory              : 6GB DDR3-1600 Dual Channel
Graphics Card    : Sapphire Radeon HD 7750 DDR5 1GB, Palit GeForce GT730 DDR3 2GB
OS                      : Windows 10 Pro 64–Bit
Our test system consist of Intel Core i5-3470 at 3.4 GHz, which is faster than the recommended processor, and 6GB of system memory which is a little lower than the recommended 8GB. Our Radeon HD 7750 and GeForce GT 730 are way slower than the recommended graphics cards. Basically our system is amid-range system from 2012, we will if older system can play this version of PUBG.
We tried running on Intel HD 2500 graphics of i5-3470, the game launched, but the errors popped.
How we tested
We tested the game using 60 seconds FRAPS benchmark in training map, running from one point to another point of the map. For individual settings tests, we used the Very Low preset, then test each setting on Very Low, Medium, and Ultra. Below the benchmarking sequence we used.
Image Quality Settings and Performance
Screen Scale
Screen Scale setting make the image clearer. The visual impact is most visible from 70% to 100% making the fence and grasses looks sharper. Jumping to 120% has less visual impact, making only the fence clearer. As for performance, jumping to each quality settings penalize the performance up to 30 fps, but since the 120% screen scale didn't make the game looks better, we recommend to set the Screen Scale to 100%.
Anti-Aliasing
Anti-Aliasing make the edges smoother, but the change is only visible from Very Low to Low. There no sense setting this higher as it still penalizes the performance all the way to Ultra without visual improvements, so we recommend setting this to Low.
Post-Processing
Post Processing supposed to add visual improvements in lighting, bloom and sun ray effects, but none of that appeared in PUBG Lite. Only there's a little lighting improvement in Ultra, but then it's not worth for its performance loss from 134 fps to 116 fps. We recommend setting this to Very Low.
Shadows
Shadows didn't improve until setting it to High, but the Ultra setting has the best quality with only 8fps loss from Very Low. We recommend setting this to Ultra.
Textures
Texture setting makes the textures clearer and sharper on ground, wall, and in other objects. The textures only improved on High, and setting it to Ultra didn't change anything. We recommend setting this to High.
Effects
Effects setting in PUBG Lite adds ambient occlusion, lighting, and particle (fire and smoke) improvements. For fire and smoke, it improved visually for each quality. For ambient occlusion, it is visible upon setting it to Low, then adds ground lighting on Medium, then the visuals stayed the same in High and Ultra. Despite having no visual improvement on High and Ultra, the performance dropped all the way to 89 fps from 134 fps. This setting is the most taxing setting in PUBG Lite. We recommend setting it to Low.
Foliage
Foliage setting supposed to improve the visual qualities of plants, leaves, and grasses. But for this game, it changed nothing from Very Low to Ultra, but still dropped 4fps on the performance. We recommend setting this to Very Low.
View Distance
In other games, View distance setting determines if distant objects will be rendered or not. But in PUBG Lite, it doesn't changed anything from Very Low to Ultra, so we recommend setting this to Very Low to save some fps.
Presets
Now we have determined which quality we will use for each setting, here is the best setting for PUBG Lite.
Screen Scale       – 100%
Anti-Aliasing       – Low
Post-Processing – Very Low
Shadows             – Ultra
Textures              – High
Effects                  – Low
Foliage                 – Very Low
View Distance      – Very low
Now let's its quality and performance compared to other presets
Our custom best setting is comparable to Ultra with 100% Screen Scale. Ultra has better texture and better lighting, which you cannot notice during the actual game. What surprised us is its performance. Our Custom preset has better performance than Low preset, 100fps to 94fps for Low preset at 1366×768, and still managed to averaged 61fps at 1920×1080 resolution. Turning down some useless settings saved us some fps.
The biggest performance drop occurred between Medium and High preset, dropping 19 fps from 80fps to 61 fps at 1366×768.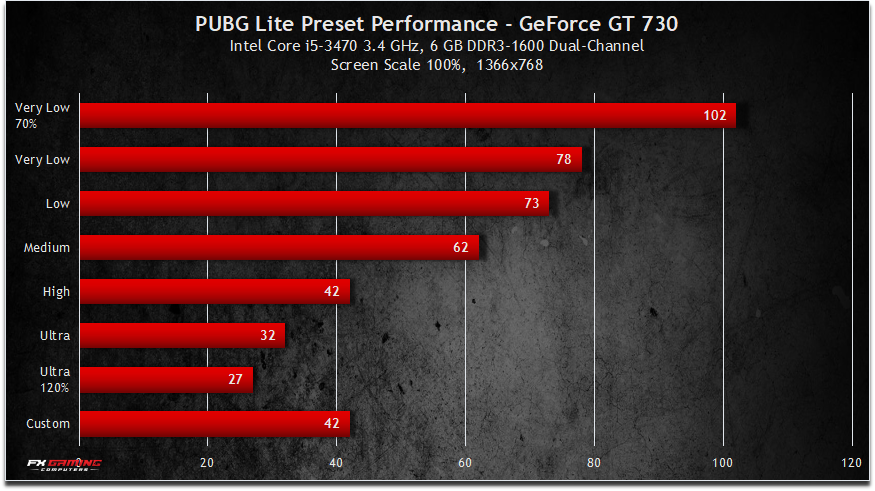 Performance on GeForce GT 730 tells us a different story in performance. Our Custom preset had 42 fps, the same performance of High preset, which is not bad and still playable. If you want 60fps or higher in this level of graphics card, select Medium preset.
Conclusion
PUBG Lite is the answer for the performance issues of the original PUBG. Being able to play 60pfs with the GeForce GT 730 is amazing, compared to the original PUBG. We were just disappointed that half of the settings doesn't change anything but still drain some fps. But with the help of ou Custom preset, we were able to match the Ultra preset quality while staying above 60fps – 100fps at 1366×768 and 61fps at 1920×1080 resolutions. We were glad that we are of great help to those that doesn't have high-end system enjoy this version of PUBG.