File archiver or Zip utilities are used primarily to reduce the size of multiple files and compile them in a singular container file. These types of utilities are very useful when sending multiple documents through email, uploading your videos and photos to cloud, or copying your projects to another storage for backup.
This article aims to find which file archiver will give the best results in compression size, as well as in compression and extraction time.
TEST SYSTEM
Our test system consist of the following components:
Intel Core i5-3470 3.2GHz Quad-Core (3.4GHz Boost)
Gigabyte B75M-D3V
6GB DDR3-1600 Dual Channel (2GB + 4GB)
Sapphire Radeon HD 7750 1GB DDR5
Windows 10 Pro 64-Bit
Source and Extraction Disk
– Western Digital Green 1TB, 64MB Cache, SATA 6.0 Gbps
Compression Disk Destination
– Samsung SpinPoint F1 320GB, 16 MB Cache, SATA 3.0 Gbps, 7200 RPM – Compress Disk
SOFTWARE USED
The following file archiver were used in this test. All of them are FREE software.
7-Zip 18.06 (x64)
PeaZip 6.6.1 Win64
IZarc 4.3
ZipWare 1.6.0.0
PeaZip and Zipware uses 7-Zip to perform all archiving functions. 7-zip is licensed under GNU LGPL licence and is available from www.7-zip.org.
HOW WE TESTED
Our test consists of normal and ultra compression as well as extracting the compressed files. Normal compression is in .zip file format while the ultra compression is in 7z file format as it is the common format in ultra compression among software used. We ran each software with Administrator rights and ran each test once and used a digital stopwatch to monitor the duration of the test.
We used the World of Tanks Encore installation folder which is 3.767 GB with 357 files and 48 folders.
RESULTS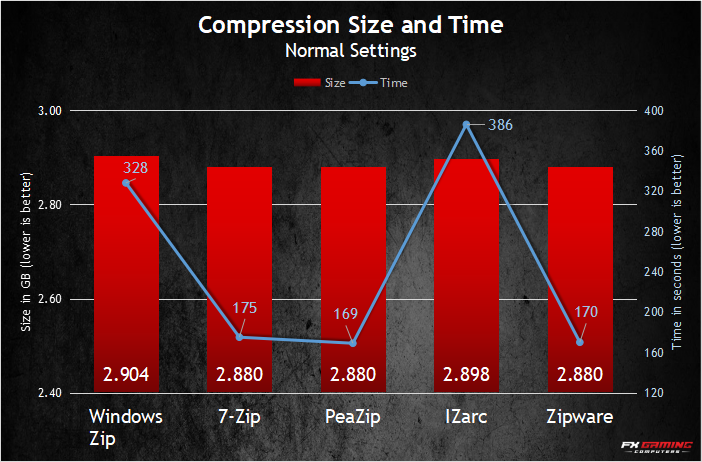 On normal compression, Windows built-in zip utility reduced the source files to 2.904 GB, which is the largest file, next is IZarc with 2.898 GB, and 7-Zip, PeaZip and Zipware all compressed the source file to 2.88 GB. This is probably because all of the three uses 7-Zip functions for compression. While the three produced same size, PeaZip finished the compression with the least time of 169 seconds. IZarc used most time with 386 seconds.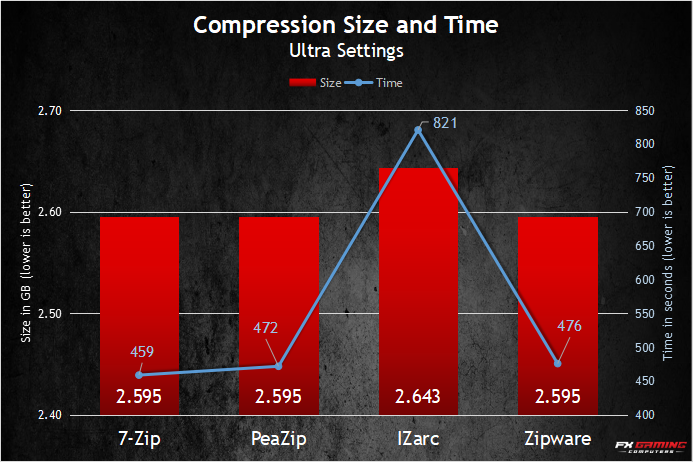 IZarc reduced the source files to 2.643 GB in 821 seconds, which is the largest file and longest time to finish. 7-Zip, PeaZip, and Zipware produced 2.595 GB, but 7-Zip finish the fastest with 459 seconds. PeaZip and Zipware probably used the same LZMA2 compression method of 7-Zip, while we had error running it on IZarc, so we used the LZMA compression method on IZarc and that maybe the reason it took too long to compress and produced the largest file.
We did not include Windows zip utility in this test as it doesn't have settings to configure it to ultra compression.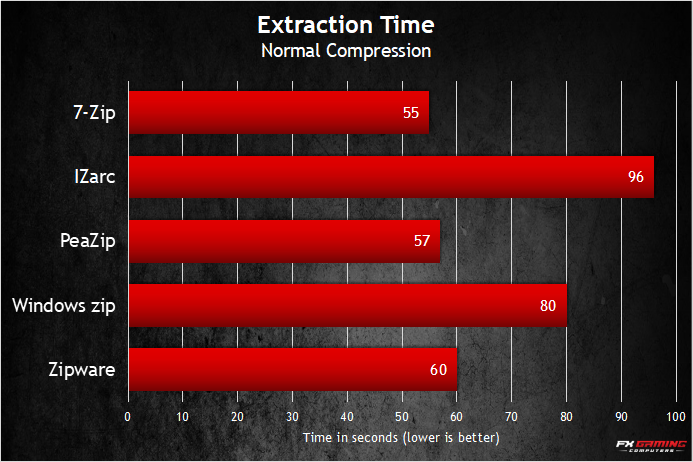 For extraction test, we used the compressed file produced by Windows zip utility which is 2.904 GB.
7-Zip finished the extraction first with only 55 seconds, while Windows zip utility finished with 80 seconds which is faster than IZarc with 96 seconds.
WINNER
For each test, we determined the winner by giving 5 points for size and 5 points for time to the best performer, 4 points to the second, and so on. In case of the same result, each software will receive the same points.


7-Zip and PeaZip both tallied 23 points, Zipware with 20, and IZarc with only 8 points. Windows zip utility only got 5 points because it lacks ultra settings. You can't go wrong with either 7-Zip or PeaZip. PeaZip has simpler interface while 7-Zip has more advanced settings for possibly better results with ours.
Get 7-Zip here and PeaZip here.